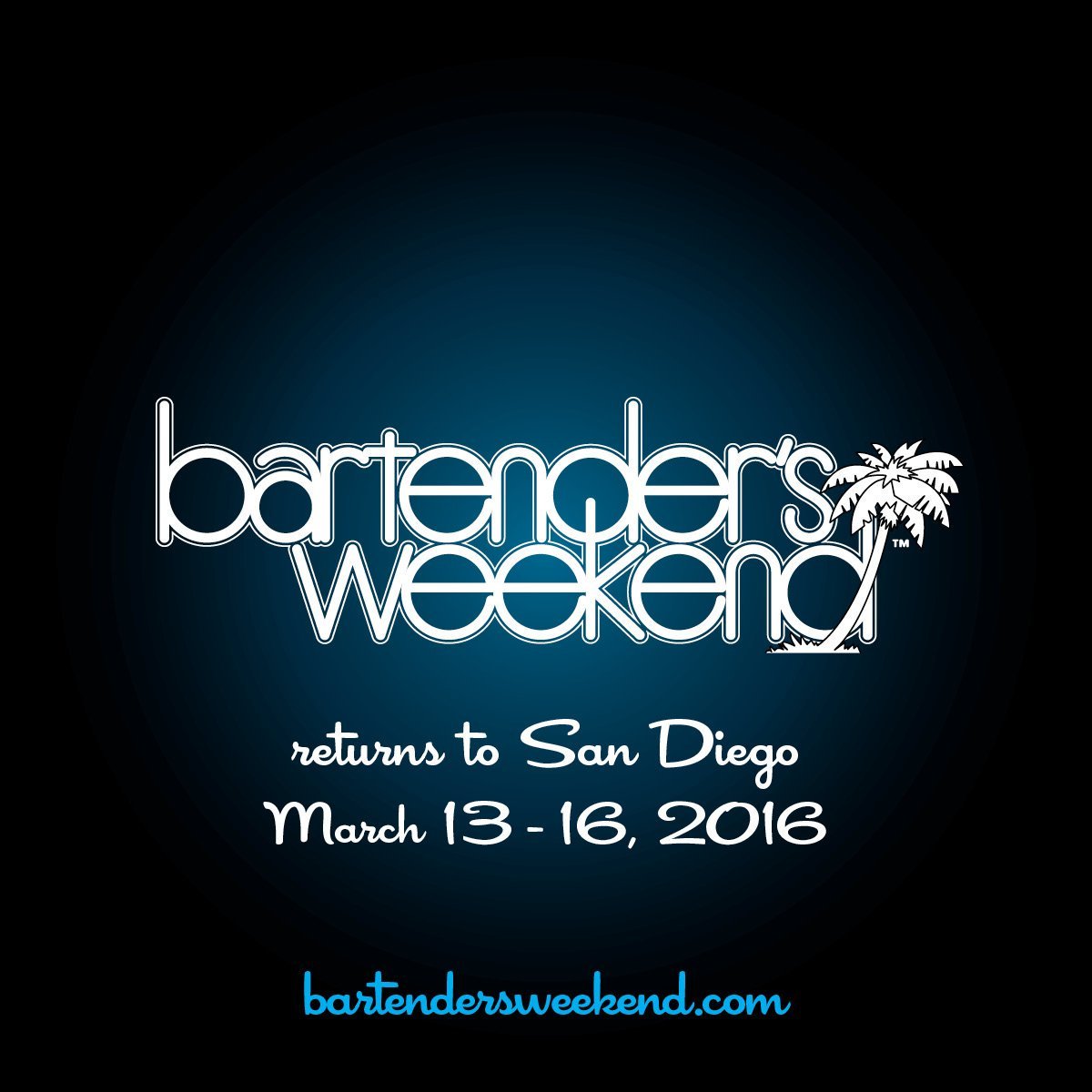 March 13 - 16, 2017. San Diego, California.
Next week, March 13-16 marks Bartender's Weekend in San Diego. What does that mean to you? Fun events, free food and drinks, cool specials, and most don't require an official RSVP, so just bring yourself and an appetite.
Normally I'd direct readers to the official website, but since their list has a serious lack of detail, I'll divulge my knowledge with update as they come. You're welcome! =)
P.S. Drink responsibly. Free Lyft codes: BOOKS; SANDIEGOVIP; UCDAVIS18
3.13.16 | Noon–4pm | Black Magic Rum Pool Party | The Lafayette Hotel 
3.13.16 | 2–4pm | Beer Pizza Party | URBN Coal Fired Pizza
Free pizza!
The first 100 people get a free soon-to-be-famous limited edition t-shirt. There will other goodies and swag.
Who to expect: Campari | Modern Times | USBG SD
3.13.16 | 4–6:30pm | Tiki Drinks and Bites | Soda & Swine, Liberty Station
Come out to Tiki Night featuring Anthony Schmidt behind the bar giving you a sneak peek of the False Idol's (opening Spring 2016) cocktail menu. Malahat Spirits will be taking over the patio bar and offering an educational tasting session of all of their rums plus some special limited releases. They'll be pouring a special collaboration beer: 32 North/Malahat Rum Runner. On the food side of things Chef Nasty Nate (Appleman) of Soda & Swine will be cooking up his famous Hawaiian slider and a special pineapple soft serve. Guest can expect be to lei'd upon arrival and have the ultimate tiki

Sunday

Funday.
3.13.16 | 8–11pm | Opening Party | Polite Provisions
3.13.16 | 11pm–2am | Opening Night Closing Party | Sycamore Den
Hosted drinks | Opportunities to win limited edition Fernet coins
3.14.16 | 12–2pm | Beer Baller Shot Caller | Park & Rec
No further info
Possibly cancelled; call to confirm
3.14.16 | 2–5pm | Fundraiser X Takeover | Coin-Op Game Room
A Spare Change event where all proceeds will go to Father Joe's Villages
All liquor: $5 | Beer and tacos: $3 | Video games: free
3.14 & 3.15 | 5-6:30pm | Johnnie Walker Highball Happy Hour | Polite Provisions
3.14.16 | 5–7pm | Margarita Monday | Cantina Mayahuel
$5 selected margaritas | Street taco happy hour plates all night long
Josh Carlos from Don Fulano, and Gino Pellarin from Henry Wine Group will be pouring out drinks and other goodies out back on the patio.
Free to the public, and free samples of these fine juices!
Who to expect: Don Lorenzo | Siembra Valles | Vago Mezcal 
3.14.16 | 6–8pm | Palomas on the Patio | True North Tavern
Suerte's SD brand ambassador, Meghan Balser, will be pouring neat blancos and serving tall grapefruit soda paloma cocktails while Billy Ray and Daniel Warrilow will be on hand for your mixing needs.
Who to expect: Mixwell | Suerte Tequila
3.14.16 | 7:30–9:30pm | Love Boat Party Cocktails & Tasting | Seven Grand Whiskey
3.14.16 | 10:00–11:30pm | Wild Turkey | Bar Three Piece
Single barrel tasting and cocktails; food provided by Carnita's Snack Shack
Private event; industry guests only… sorry!
3.14.16 | 11:59pm-2am | Glam Rock Dance Party | The Office Bar
Midnight dance party | face painting | apparently some "very limited, very coveted souvenirs you do not want to miss out on"
Who to expect: Beam Suntory | Campari | Hibiki
3.15.16 | 12–2pm | Brunch | Counterpoint
3.15.16 | 1:30–3:30pm | La Niña del Mezcal Tasting| Bracero Cocina
3.15.16 | 3–5pm | Rutte Gin Oyster & Martini Happy Hour | Ironside Fish & Oyster
$4 oyster shooters
Again, they had  me at gin, and I want to go. ANYONE?!
3.15.16 | 3-5pm | Brazilian Tiki Time | The Crack Shack
3.15.16 | 5–7pm | Brugal Rum's Rooftop Party | Kettner Exchange
The owners of Kettner Exchange are opening a poké eatery/tiki speakeasy this fall called Good Time Poké/The Grass Skirt, respectively. There will be hosted food from the former along with $8 Brugal Rum tiki drinks.
Who to expect: Brugal Rum; Executive Chef Brian Redzikowski with Good Time Poké
3.15.16 | 7–9pm | Venetian Vacation | Fairweather
Old Fashioned variations | Daiquiris served by John Holt and A Guy Named Ken | Venuezuelan arepas | Rice and beans | Pulled pork
Venue is open from 5-10 PM, so get there early for good parking and seating as both are hard to find.
Who to expect: Diplomatico Rum
3.15.16 | 8-10pm | New Orleans Night | Prohibition San Diego
Prohibition is coming back from a closure to give you some San Diego riffs on classic New Orleans cocktails while listening to some sweet live NOLA tunes
Who to expect: Fernet Branca | Henebery Whiskey | R&D Bitters
3.15.16 | 10pm–Midnight | San Diego Meets San Patricio | Lion's Share
3.15.16 | Midnight–Close | El Dorado Cocktail Lounge
3.16.16 | 10:30 AM | 2nd Annual Bartender's Weekend TJ Takeover | Tijuana