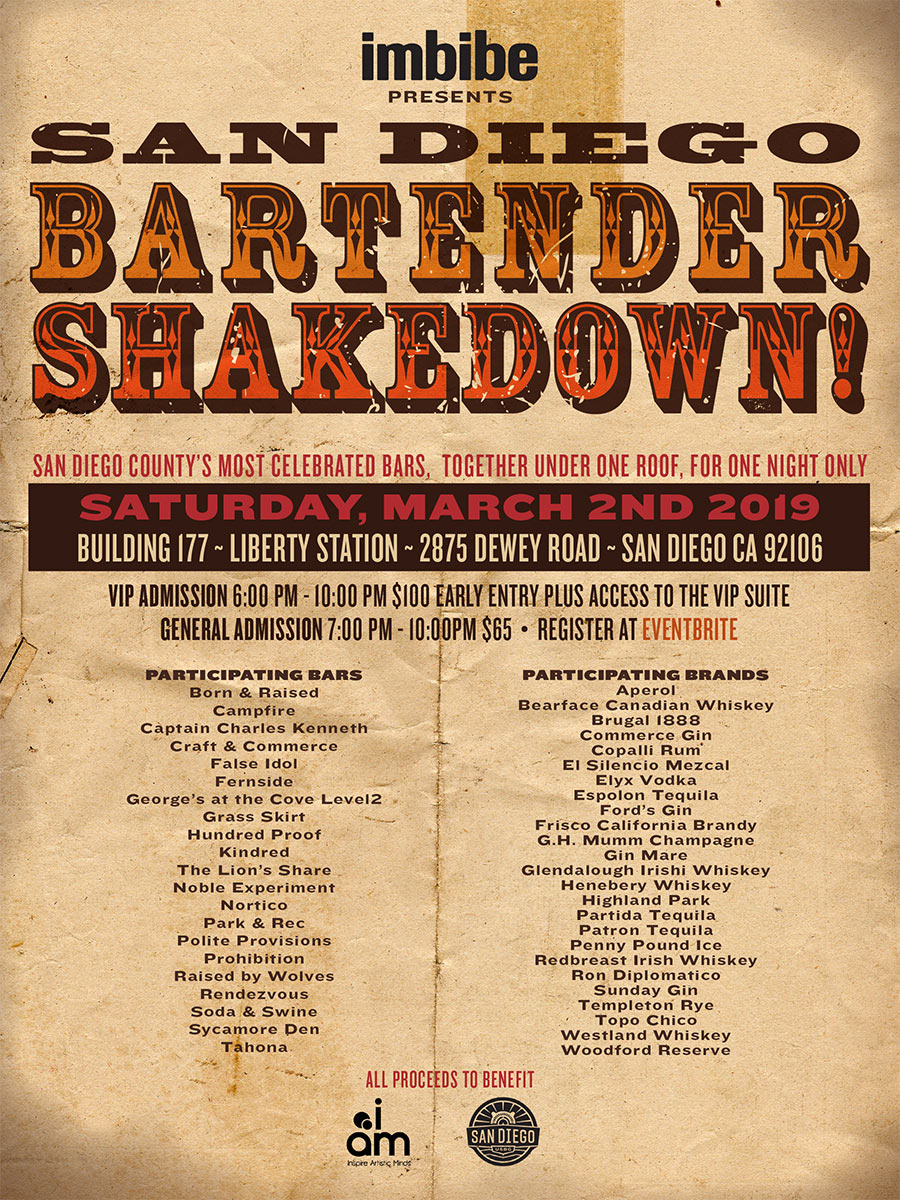 The San Diego Bartender Shakedown presented by Imbibe was designed to showcase San Diego's finest cocktail bars to the community at large, while highlighting some of our brightest cocktail makers, as well as our favorite spirits.
Select Bar's from all over San Diego County are being brought together under one roof for a "One Night Only" event to highlight some of the best bars that America's Finest City has to offer.
Please note that there are two ticket options:
VIP Tickets allow atendees access to the event at 6PM (one hour early), plus admission to the VIP lounge thought the duration of the event.
General Admission Tickets allow access to the event at 7PM without access to the VIP area.
All tickets include access to the event, where guests will be able to sample craft cocktails from twenty one of San Diego's best bars. Ticket includes everything, there is nothing more to buy.
Participating Bars Include:
Born & Raised
Campfire
Captain Charles Kenneth
Craft & Commerce
False Idol
Fernside
Georges Level 2
Grass Skirt
Hundred Proof
Kindred
Lion's Share
Noble Experiment
Nortico
Park and Rec
Polite Provisions
Prohibition
Raised by Wolves
Rendezvous
Soda & Swine
Sycamore Den
Tahona
You must be +21 to attend this event.
Plus, we are partnering with 501(c)3 Inspire Artistic Minds and the San Diego Chapter of the United States Bartenders Guild to provide an element of charity for the evening.
About Imbibe
Imbibe is liquid culture. In every issue of the James Beard award-winning magazine and on our website, we celebrate drinks as a distinct culinary category, deserving in-depth exploration of the people, places, cultures and flavors surrounding beverages around the world.
About Bartender's Weekend
Bartender's Weekend is a three day, Industry focused, networking event aimed at promoting the "Spirit of Hospitality" embodied throughout the profession of Bartending. Now in our 6th year, this San Diego based event has captivated the hearts and minds of Service and Hospitality Professionals worldwide, as well as the Brands that support them. And as with previous years all proceeds from any the "Weekend's" events are donated to our industry relevant charity partners.
Location
Building 177
2875 Dewey Rd
San Diego, CA 92106
United States